Garage Lighting On The Cheap House Improvements
Get ready for the sun to go down early...
"Its getting DARK and I need Light!"This is the statement I made to myself, as I was working in the garage this weekend...
I have decided there is just not enough lighting in here, so I pondered a cheap option to remedy this situation... And, although I partially despise florescent lighting, there is a time and place for its use.
So, I took I got the bright idea to take the ugly (albeit bright) florescent light fixture from my kitchen and replace that with some warm track lighting, this added some nice accent to my kitchen cabinets :D.
Next, I mounted the old florescent kitchen fixture on the ceiling of the garage. It worked wonderfully! An extra bonus tip, they make soft diffusing covers that really do a great job of creating a nice even lighting in the garage, and they look a bit more fancy. We had some extra outlets for the garage door drive, so I wired a standard plug end to the fixture (you won't need this unless you need to extend the wire or the light doesn't have a standard plug end) and hooked up a remote switch for turning on this extra boost of lighting.
Here are the 4 main ingredients to aid you in your next garage lighting adventure.
1. Light: Standard Fluorescent Light
2. Light Cover: Light diffusing cover
3. Plug End: Plug end if needed for extending wiring
4. Wireless Switch: Remote switch for activating light if not hooked to a switch
Other Creative ideas for Florescent Lighting Covers: Creative fluorescent lighting covers for interior bling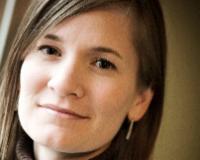 Author:
Jessica Side
Phone:
509-624-6873
Dated:
November 2nd 2015
Views:
4,349
About Jessica: Hi! I am the broker/owner of EvoReal and have been actively working in real estate for over 13 years...