Pumpkin Bread Smackdown
This weekend was cold, dreary and rainy - so, of course, it was time to make some quick bread.
Quick Breads 3 and 4 of our challenge both featured pumpkin as the main ingredient. One recipe, "Cider Pumpkin Bread," was taken from a cookbook called "Pillsbury: Best Muffins and Quick Breads: Favorite Recipes from America's Most-Trusted Kitchens". The other recipe is my personal pumpkin bread recipe, which I've used for years and I quite literally have no earthly idea where it came from.
I came up with this fabulous idea that I would bake my personal recipe, plus this other recipe, and have my husband taste-test them both - without, of course, revealing which is which - and see which was truly better. I told him about said fabulous idea, and he gave me a look which said "I couldn't agree more, that sounds like fun!!" I mean, seriously, what husband wouldn't want the opportunity to blindly judge his wife's baking skills against a company like Pillsbury?
Now that I think about it, I might be a little off on my assessment of his facial expression.
Anyhow, the Pillsbury recipe features apple cider and dates (it actually said raisins, but I only had dates, and it was raining, and I didn't want to go to the store). My recipe has no cider and no additions - but it has a lot more spices, like ginger, pumpkin pie spice, and cinnamon. Let me just say, when you spend 2 hours baking pumpkin bread, your house smells AMAZING.
The Pillsbury loaves were bumpy, lighter in color, and dense. My recipe was much more cake-like, with a deep, pumpkiny-caramel color. I knew as soon as the came out of the oven that the competition was over. Think Rocky II. And I'm Rocky.
Okay, not the best analogy, since we didn't really know until the very end of the fight if Rocky was going to make it happen, but you get the idea. And seriously, why would they have made a Rocky II and let Apollo beat him a second time? So, really, you already knew, didn't you.
My taste-test assessment: The Pillsbury recipe lacked flavor and the texture was all dense and pasty. The addition of cider, which I thought would be the ringer of all quick bread ingredients that ko'd my old recipe, gave the bread a weird sour taste. There were no spices to speak of, so there was nothing to counteract the blah.
When I took a bite from my recipe, however, the clouds parted - the heavens opened - the angels sang.
My judge's assessment: (in his mind) "WHICH ONE IS HERS? She makes it all the time, I probably should recognize it. But geez, it's like a sliced-up muffin, who pays attention to that? Which one did she try first? She would try the other one first, right? So whichever one she reached for, I should go for the other one, because that's definitely hers. But what if she knows that I'm watching her, and she's trying to intentionally throw me off? FOR THE LOVE OF ALL THAT'S HOLY, please let it be this one, because that other one tastes like white bread soaked in apple juice."
My judge's assessment: (verbally) "I think I prefer this one." (takes a deep breath, and points to mine)
Yo, Adrienne, I did it!
So, folks, there you have it. Recipes are available by emailing me at tina@evoreal.com.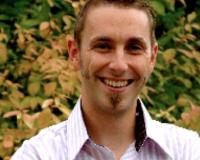 Author:
Matt Side
Phone:
509-624-6873
Dated:
November 2nd 2015
Views:
442
About Matt: As an Owner/Sales Manager for Realty One Group Eclipse, I am committed to my brokers. If they have t...