Quick Breads 1 And 2
For 9 months of the year, I avoid the kitchen like the plague. But, as the days of summer wane and the leaves start to pile up in the yard, I feel this absurd need to bake stuff. It usually passes after January 1st, and I again completely ignore the "cooking room" until September.
Well, you've probably noticed that the days are shortening and the cold nights are lengthening. It's baking time. So, I came up with this great idea to bake 30 different quick breads in 30 days. Why, you ask? It gives me something to write about. (My long-suffering spouse is used to this kind of stuff.)
My first 2 recipes are from the "Bona Casa Restaurant Cookbook," which is a very, very small Italian restaurant in a very, very small town in Wisconsin. It was published back in 1970, in those wonderful days when recipes were drafted by home cooks in floured aprons who didn't concern themselves with such annoying concepts as "low-fat," "heart-healthy," or "non-carcinogenic." It's a comb-bound, typewriter-drafted work of art.
Recipe 1: Oatmeal Applesauce Bread
I generally distrust quick breads with oatmeal. They tend to be too dense and too dry for my liking. This recipe, however, offsets the oats with a substantial portion of applesauce and the addition of chopped dates.
Recipe 2: Grape Nuts Bread
Yes, Grape Nuts. That cereal I just love, when it's covered in about a 1/4 cup of sugar and is allowed to soak in milk just long enough to take the grittiness out of the crunch, but not so long that it gets soggy. Did you know that Grape Nuts are made from barley? No grapes, no nuts. Go figure. Anyhow, the focus of this recipe is the Grape Nuts cereal, which is soaked in buttermilk for 30 minutes, before it's mixed with brown sugar and your standard quick bread ingredients.
The judges: My husband, and 3 EvoReal folks - Jessie, Dan and Amy.
The verdicts:
Recipe 1: I thought it was too dry and too dense....pretty much what I expected. My husband agreed. Dan didn't actually vocalize an opinion, but he did seemed to sniff it a lot, like he was suspicious of this strange Realtor who was forcing baked goods on him. (Did I mention that I didn't actually ASK the judges if they wanted to participate?) I didn't tell any of them that it also had dates in it, because there was a distinct possibility that at least 2 of the judges would refuse to taste-test, had they known. That being said, the dates helped the texture. Without them, I think this recipe would have been a doorstop which smelled vaguely of cinnamon.
Recipe 2: I love this. It wasn't super-sweet; in fact, I can see this bread being served as part of a meal. The cereal gives it a nutty/grainy flavor, and if you don't know the secret ingredient, you'll be stumped, for sure. Amy was my taste-tester, and she made a lot of yummy sounds and remarked how moist it was. So I think I scored with this one.
Interested in the recipes? They are available upon request - just send me an email at tina@evoreal.com and let me know which recipe numbers you are seeking.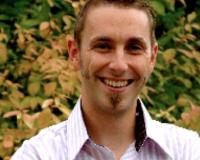 Author:
Matt Side
Phone:
509-624-6873
Dated:
October 28th 2015
Views:
642
About Matt: As an Owner/Sales Manager for Realty One Group Eclipse, I am committed to my brokers. If they have t...