Realtors Are Like Gremlins
My time in real estate has taught me a few valuable life lessons:
-a picture, taken from different angles, can make your house look like a showboat...or a tugboat.
-I'm self-employed, and so can set my own hours - I get to choose which 15 hours I work, each and every day.
-do not consume caffeine after noon. Period. It's like that gremlin rule - no food after midnight, and never, ever get them wet.
I occasionally forget rule #3. I'll have my diet Coke at 4:00, or perhaps I'll go flat-out insane and have an Americano at 6:00. And then my evening looks like this:
10:00 - go to bed.
10:15 - look at clock.
10:20 - mentally walk through every house I've shown in the past week.
10:45 - look at clock.
10:46 - mentally close every pending deal that I have, including preparing all the documents that are usually worked up by the escrow closer, and working my way through every possible doomsday scenario.
11:10 - mentally sell every listing at my brokerage, including the drafting of the contracts, and working my way through every possible doomsday scenario.
12:00 - look at clock. Remark to my sleeping husband how it's now the next day.
12:01 - think about my car, and how much longer I want to keep it. Decide to trade my car in on February 1, 2018. Decide that my husband needs to know of this decision RIGHT NOW.
12:20 - look at clock.
12:21 - ask my husband if he's still awake. (he's not.)
12:22 - Christmas is coming up in 3 short months. Mentally construct gift list, budget, and where to put the tree.
1:00 - look at clock.
1:01 - hear a noise. It's not really a creak, not really a thump. More of a creaking thump. Ask my husband if he heard said noise. No response.
1:20 - decide that if said creaking thump was caused by a home intruder, the dogs would have barked by now, and therefore I am safe.
1:21 - I think I'm asleep. No, wait, I'm not.
This usually continues on until about 2:00 or so, when the caffeine wears off and my eyes finally fall shut. What seems like 15 minutes later, the sun is up and the day is starting. Fortunately for me, my husband doesn't remember that I woke him up at midnight to talk about trading my car in, and he probably only vaguely remembers the creaking thump noise. So begins another day - and another chance to break rule #3.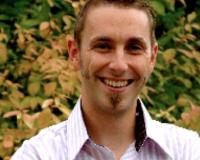 Author:
Matt Side
Phone:
509-624-6873
Dated:
September 10th 2015
Views:
493
About Matt: As an Owner/Sales Manager for Realty One Group Eclipse, I am committed to my brokers. If they have t...