Renovation Realities
Have you renovated a kitchen? What an adventure!
Phase 1: Demo
Walls... so just sledge the wall and patch the hardwood... easy, peasy, right? Wrong. Opening a wall can often open a can of worms as well. Jim and I have learned to go slow with an understanding of possible obstacles (HVAC, electrical, plumbing) and a willingness to overcome obstacles despite their monetary, physical, or emotional (renovation + relationship = x) expense.
Here's an article we found helpful:
http%3A/http%3A//www.houzz.com/ideabooks/21682450/list/what-to-know-before-you-tear-down-that-wall%20

Granite removal... great Caesar's ghost this stuff is heavy! It was fairly easy separating the glue from the slab, but then it was time for the muscle! We decided to reuse the granite in an outdoor kitchen so more on that to come.
Flooring... we were functioning on dark, uneven, difficult-to-clean (need I say more) slate floors. Beautiful in a different application, but they had to leave the kitchen. Under this tile we found a subfloor which would ordinarily be reason to celebrate as new flooring is applied on top of subfloors, right? Wrong again. Under this subfloor we found linoleum, circa 1980, and under that, we found another subfloor, woo hoo! Nope. We removed layer number four to reveal a groovy 1950s product which necessitated testing for asbestos. Did you know you can buy an asbestos kit at your local hardware store and send in samples for testing? So easy! Thankfully, no asbestos. Under the 1950s product, another pad-like material and finally, a beautiful 1950s subfloor. Totally worth the can of worms!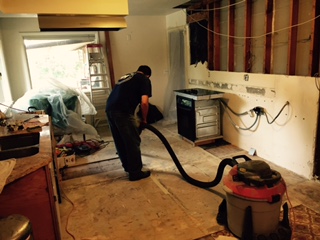 Author:
Casi Gronenthal
Phone:
509-991-3187
Dated:
September 3rd 2015
Views:
555
About Casi: After 20 years in the field of education, I am thrilled to be pursuing another passion in my life…...